Picture this: It's the mid-2000s. The weekend is here, and I've got a few mates around. Merriment and frivolity abound. Sooner (rather than later), the Playstation 2 comes out and with it the dual microphones of Singstar. That's the feeling I get with Let's Sing 2024, the latest karaoke game from the developers over at Voxler.
Let's Sing 2024: Modes
First and foremost, Let's Sing 2024 is a party game. It's best enjoyed with friends in your living room. But there there's more to it than simply a karaoke machine.
An all-new career mode serves as both a fun story mode as well as taking you through some of the basics of the game. At key points in your journey players will make decisions that affect the flow of their story. All roads lead to the same place, though, and the decisions made don't really seem to have any lasting impact.
There was a point where I was made to choose what type of artist I would be. I chose rock but the very next song I was presented with (that I had to sing) was not a rock song. Career mode ends with you winning the Let's Sing Music Awards and reconciling somewhat with your rival and all being right with the world.
Let's Sing 2024 has an online component. In Let's Sing Fest, players are added to a lobby of randomised songs. These songs are based on a theme for a 30-minute slot. The mode then matches you with other players for asynchronous multiplayer matches. Let's Sing Fest is drop in and drop out, meaning you can start and stop whenever you want.
Let's Sing 2024 Wants Your To Party With Friends
Career mode and Let's Sing Fest are alright, but they're effectively single player experiences. Even the online components don't really have any interaction with your opponents. The bread and butter of Let's Sing 2024 is its karaoke mode.
Groups (or singles) can take turns in the Classic mode or boot up Feat. mode to either perform a duet or battle your friends. Let's Sing 2024 can take any USB microphone but if you don't have any of those you can turn your phone into a mic with a simple app download. It manages well, capturing player vocals with the only limitation that the phone and system you're playing on have to be on the same network (i.e. same wifi connection) for it to work.
A New Look
Let's Sing 2024 has changed up its look, putting more emphasis on player created avatars. When singing, players' avatars will appear on screen like they're on a stage with the video clip for the song playing on a smaller 'screen' in the background.
This could have been a good change for the series if they'd gone for full body avatars. Instead, we have talking heads with hands. I found myself not caring about my avatar because they looked weird and distracted me from the video clips that were playing in the background.
The game contains multiple levelling opportunities. Players can level different modes as well as genres of music to unlock more accessories for their avatars.
Why A Subscription?
I haven't had a lot of experience with the Let's Sing series. But I have been playing Rock Band since its first release way back in 2008. Every time they came out, I bought the Band-In-A-Box pack (microphone, guitar, and drums) and graduated to the Pro Drums which adds three more pads.
One of the things I love about the Rock Band series is that with every new release Harmonix have made the tracks from the previous game exportable. Combined with all the DLC I've bought, I have over 900 songs.
I say all this because when it comes to music games, Rock Band is the gold standard I measure others against. More that once in writing this review I caught myself unreasonably comparing Let's Sing 2024 to Rock Band. One area that I think it is fair to compare them is in how you acquire more songs. Rock Band charges per individual song and you keep that song. Let's Sing 2024 has a subscription service titled VIP Pass.
I'm going to be upfront and say that while it's become the industry standard to offer subscriptions or battle passes, I don't like it. I like to buy something and have it. It's a major factor in why I prefer physical items over digital media.
At the risk of turning this review into another physical vs digital debate, I'll state the main reason I don't like subscriptions in most games: content availability. I don't want the full experience of a game to be locked behind a pay wall.
I will say that at least Let's Sing 2024's VIP Pass is not auto-renewing so if you forget about it, you won't be charged for something you're not using.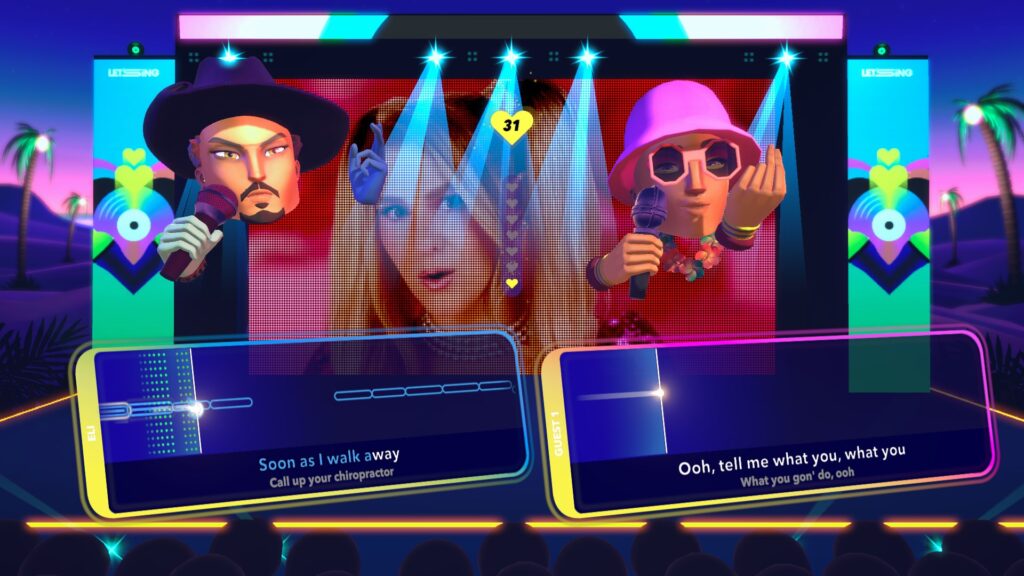 Let's Sing 2024
My feelings about DLC vs subscriptions aside, Let's Sing 2024 does exactly what it says on the box. It's a karaoke game that lets you sing along to current hits as well as chart classics. Whether you're using a USB mic or your phone you're going to have a fun time.
Music games live and die by their track list, and Let's Sing 2024 has a decent list, even for a middle-aged white man like me. In addition to the 20 tracks that come with the base game, there's also another 15 songs that vary depending on what region you are in.
Song List
BTS – Dynamite
Lady Gaga – Hold My Hand
Billie Eilish – Your Power
Queen – Another One Bites The Dust
Imagine Dragons – Bones
Shawn Mendes – When You're Gone
JVKE – Golden Hour
SHAED – Trampoline
Ace of Base – The Sign
Lost Frequencies ft. Calum Scott – Where Are You Now
Marshmello & Jonas Brothers – Leave Before You Love Me
Kelly Clarkson – Stronger (What Doesn't Kill You)
John Newman – Love Me Again
David Bowie – Life On Mars?
LSD (Labrinth, Sia & Diplo) – Thunderclouds
Ava Max – Million Dollar Baby
Rosa Linn – SNAP
Ed Sheeran & Elton John – Merry Christmas
Tom Odell – Another Love
GAYLE – abc (nicer)
Australian Bonus Tracks
Flume feat. Tove Lo- Say It
The Veronicas – In My Blood
Men At Work – Down Under
Sam Fischer – This City
The Kid LAROI – Thousand Miles
Nick Cave & The Bad Seeds ft. Kylie Minogue – Where The Wild Roses Grow
Sheppard – Geronimo
Crowded House – Better Be Home Soon
Pocahontas – Colors Of The Wind
Anne-Marie & Niall Horan – Our Song
Fleetwood Mac – Everywhere
Ed Sheeran – Eyes Closed
Lizzo – About Damn Time
Meghan Trainor – Made You Look (Again)
Miley Cyrus – Party in the USA
Let's Sing 2024 is releasing on November 7 on Playstation, Xbox, and Nintendo Switch.