Terminator: Dark Fate – Defiance is a RTS developed by Slitherine and there is a playable demo available today as part of Steam Next Fest. Set for release later this year, you will take command and lead your army to foil Legion's plan to destroy humanity or play as one of three factions in skirmish and multiplayer. I gave my thoughts on a gameplay video released in June and was eager to go hands-on with the demo, and having played it, it is a gritty and challenging game.
The full real-time strategy game will feature a story-rich campaign and multiple skirmish and multiplayer modes. In a ruined post-Judgement Day world, the greatest threat may not only come from the ravaging machines but also from bands of other human survivors. The demo contains three single-player scenarios and one skirmish map playable in Assault Mode. The missions encompass the first campaign levels, teaching the basics of the game and introducing the players to a post-apocalyptic world with its three distinct factions: Founders, Legion, and Movement.
We start Terminator: Dark Fate – Defiance in the early days of Legion's attacks in a ruined city. We play as Officer Stevens who takes charge of his fellow policemen, heads further into town and meets up with remnants of soldiers who are leaderless. I would have though a low-ranking marine would take charge as opposed to a cop, but I rolled with it. You take command and after fast forwarding through time, you eventually become a Major in the army. Key characters are voice acted and their performances mostly match their given avatars. The game plays like most other RTS games with click-drag to select, assigning battle groups, attack-moves and so on. Some additional tool tips or tutorial prompts may help explain some of the UI elements earlier as I generally learned as I went along and hovered my mouse over each element.
There are notices that scroll in the bottom left of the UI when a vehicle is damaged, or a unit is out of ammo. You can click these, and it will take you straight to that unit with them selected so you can quickly issue commands and get back to the main fight. To restock ammo, you'll need to move to either a stationary ammo point or a mobile ammo truck if the mission has one. A similar thing happens with vehicle fuel, though in the third mission it was just about filling up vehicles that had been repaired for use to bolster the front lines. The first two missions were straight forward and with a decent learning curve, and I failed the third mission on my first attemp as it ramps up the intensity and complexity.
The firing range of weapons from both sides are so long with certain units that sometimes I couldn't see both the attacker and defender on the screen, even with the camera zoomed all the way out. Scrolling across is quick enough but it would be great to be able to zoom out enough to see enough of a combat zone to plan and anticipate moves. Otherwise, the unit detail is excellent for both humans and machines, especially some of the larger tank units in the Legion. Weapons and explosions sounded excellent, and it really felt like you were fighting down there with them.
The single-player skirmish mode in the Terminator: Dark Fate – Defiance demo focuses on Assault Mode. This mode allows you to select either the Founders or Legion factions with the objective being to attack or defend an underground base. The full game will also feature Domination Mode maps, allowing all three factions to be chosen with different reinforcement rules. All skirmish maps in the full release will be playable in multiplayer mode, allowing up to four players to duel it out in either 1v1, 2v1, or 2v2 games.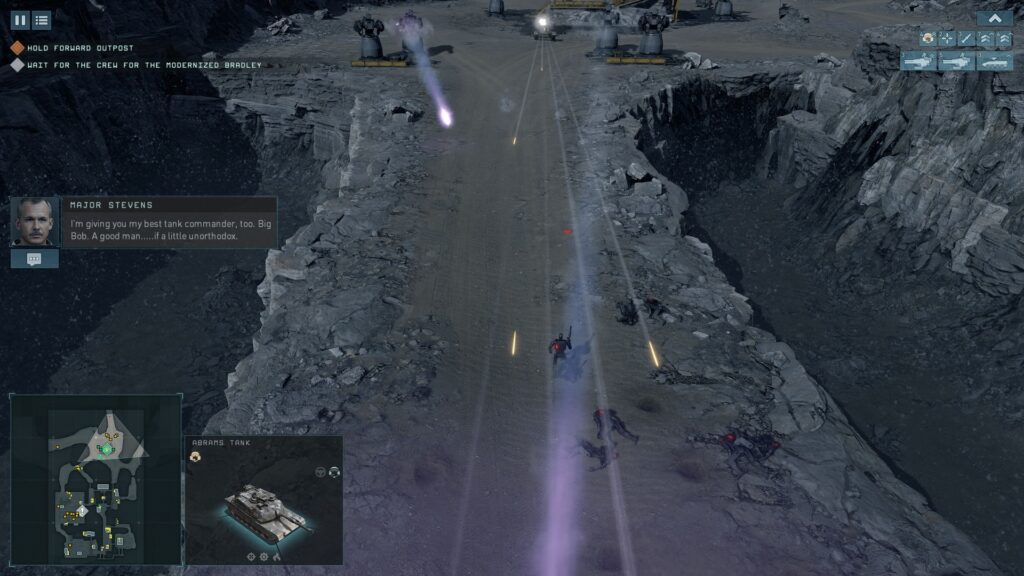 Major features in the full launch of Terminator: Dark Fate – Defiance will include multiple-choice campaign options, branching dialogue, events and mission objectives, as well as the army management screen. This latter feature will let players upgrade character skills, weapons, and armour for squads and vehicles, plus unit customisation and buying and selling manpower, equipment, and supplies.
I had a lot of fun with this demo and am excited to play more of the story campaign at full release. The units look great, sound effects are excellent and voice acting is ample for you to connect with the characters. I would like the option to zoom the camera out just a little bit further (maybe even a tactical top-down view like other games, but it could change the feel too much). I am keen to see how the demo is received during Steam Next Fest, so be sure to give feedback to the developers through Steam discussions.
This preview utilised a key provided by Slitherine and Terminator: Dark Fate – Defiance will launch on Steam in Q4 2023.
#roundtablecoop